2017 Festival: Film Screening Schedule
Film Screenings at the 2017 Festival
The Mathematical Sciences Research Institute announces the following schedule of films to be screened at the National Math Festival. The suggested age level for most films is 11+.
Hundreds of Navajo children in recent years have found themselves at the center of a lively collaboration with mathematicians from around the world. The children stay late after school and assemble over the summer to study mathematics, using a model called math circles, which originated in Eastern Europe and which has proliferated across the United States. This notion of student-centered learning puts children in charge of exploring mathematics to their own joy and satisfaction, with potentially long-lasting results. (59 minutes)
As of this writing, the film has won 9 awards, having been chosen by the One Nation Film Festival, the United Nations Association Film Festival, the Vision Maker Film Festival, and more. 
---
The Origami Revolution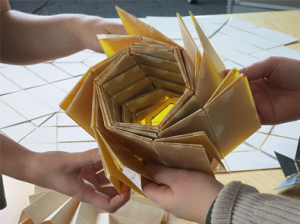 The centuries-old tradition of folding two-dimensional paper into three-dimensional shapes is inspiring a scientific revolution. The rules of folding are at the heart of many natural phenomena, from how leaves blossom to how beetles fly. But now, engineers and designers are applying its principles to reshape the world around us—and even within us, designing new drugs, micro-robots, and future space missions. With this burgeoning field of origami-inspired-design, the question is: can the mathematics of origami be boiled down to one elegant algorithm—a fail-proof guidebook to make any object out of a flat surface, just by folding? And if so, what would that mean for the future of design? Explore the high-tech future of this age-old art as NOVA unfolds "The Origami Revolution." (54 minutes)
The National Math Festival thanks NOVA for their support of this program.
---
Hidden Figures
Hidden Figures is the incredible untold story of Katherine Johnson (Taraji P. Henson), Dorothy Vaughan (Octavia Spencer) and Mary Jackson (Janelle Monáe) — brilliant African-American women working at NASA, who served as the brains behind one of the greatest operations in history: the launch of astronaut John Glenn into orbit, a stunning achievement that restored the nation's confidence, turned around the Space Race, and galvanized the world. The visionary trio crossed all gender and race lines to inspire generations to dream big. (127 minutes)
---
Skylab
An 11 year-old spends the summer of 1979 certain that Skylab, America's first space station — then falling back to Earth, though no expert could say where — is about to land on top of him. It might almost make him less miserable if it did; he is spending the summer with his mother who is planning a second marriage to a guy he can't stand. (13 minutes)
---
The Collector's Gift
A young girl discovers a treasure chest containing all the elements of the periodic table. It belonged to a scientist, who died just as he was bottling the last one – Cobalt. In Ryan Kravetz's short film The Collector's Gift, these characters are modeled and then animated. (9 minutes)
---
Chasing Patterns
The young hero of Chasing Patterns is lucky enough to have a teacher who encourages his fascination with the patterns he sees in sunflowers and pine cones — a passion that dovetails with his love of narrative, especially a book of Arthurian legends that belonged to his late mother. (17 minutes)
---
Haber
Fritz Haber was a brilliant German-Jewish chemist with one of the most amazing dual legacies in history. His revolutionary process for creating synthetic fertilizers averted the greatest overpopulation crisis the world has ever known and won him a Nobel Prize in 1918. However, Haber used his genius to create the first chemical weapon, which was used during World War I. NOTE: Adult content, may not be suitable for younger viewers. (34 minutes)
---
The Monster and the Peanut
The Monster and the Peanut is about a man who believes the tragic death of his young daughter can be explained by the rules of traffic flow. It suggests that for some people, science (the repository of reason) becomes a substitute religion, which can explain away the troubling uncertainty of the world. NOTE: Adult content, may not be suitable for younger viewers. (23 minutes)
---
The King's Pawn
In 1997, world chess champ Gary Kasparov went head-to-head with the computer Deep Blue in a much-discussed match. Kasparov lost, leading to a flurry of discussion surrounding the possibilities of computer intelligence. The King's Pawn presents a fictionalized version of a similar matchup. A former chess master, Martin, who has been "training" a computer for years, comes up against his old nemesis in a televised competition. (18 minutes)